Ilitch School development office welcomes two new team members
The Mike Ilitch School of Business Office of Development and Alumni Affairs recently hired two staff members, Senior Major Gift Officer Becky Dennis-Hulway and Alumni and Donor Relations Officer Hannah Olszewski.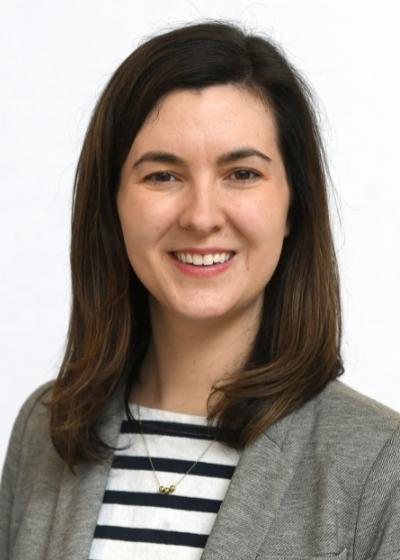 Becky Dennis-Hulway
Senior Major Gift Officer
Becky Dennis-Hulway joined the Mike Ilitch School of Business after serving as the senior major gifts officer at The Henry Ford, where she helped raise funds for programmatic and capital initiatives across the museum. Her favorite projects included its newest permanent exhibit, Driven to Win: Racing in America and re-erecting the Detroit Central Farmers Market structure in Greenfield Village. Her previous Wayne State experience includes philanthropy and alumni relations efforts in the College of Engineering and College Liberal Arts and Sciences. Dennis-Hulway also spent a few years as a theatre administrator on the East Coast, where she worked on plays and musicals developed for Broadway, including Hamilton and Bright Star, written by Steve Martin and Edie Brickell.
In her free time, Dennis-Hulway is a member of the Fine Arts Society of Detroit, where she occasionally acts and directs, and a women's investment club that has been active since the 1950s. She is a proud alumna of Wayne State University (M.P.A.) and Kalamazoo College.
In her new role, Dennis-Hulway will work with alumni and friends to discover opportunities to match their philanthropic goals with Ilitch School initiatives to positively impact students, faculty, facilities and community. She can be reached at 313-577-9208 or beckydh@wayne.edu.
Hannah Olszewski
Alumni and Donor Relations Officer
After graduating from Central Michigan University with a degree in sociology, Hannah Olszewski worked in the nonprofit sector for several years, beginning her career in program management. During her time at Big Brothers Big Sisters of Metropolitan Detroit, Olszewski successfully led a team of individuals to serve youth in the community and worked with countless volunteers and other stakeholders while developing and implementing several programs throughout the Metro Detroit area.
As part of the Ilitch School's development team, she brings a deep understanding of building community, making positive connections, and creating lasting relationships in order to provide successful and engaging programs.
In her new role, Olszewski will focus on engaging current and future alumni through programming and events to generate further interest and support for the Mike Ilitch School of Business. She can be reached at 313-577-8598 or hannah.olszewski@wayne.edu.