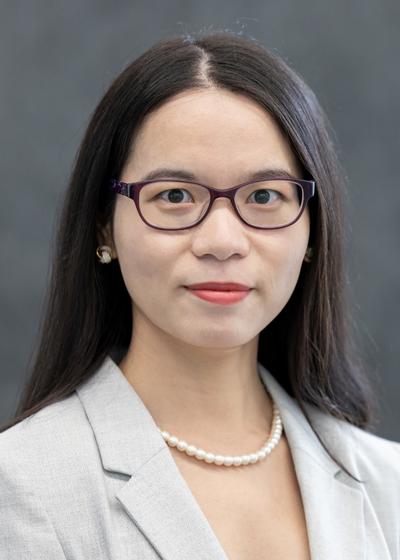 Title
Assistant Professor of Management
Email
Office
Mike Ilitch School of Business
2771 Woodward Avenue
Room 463
Detroit, MI 48201
Carrie Zhang
Academic Programs
Education
Ph.D., The Ohio State University, 2017-2022
M.S., Renmin University of China, 2014-2017
B.S., Wuhan University, 2010-2014
Research and teaching interests
Positive leadership behaviors (e.g., leader humility, ethical leadership, empowering leadership, leader vision communication); Subjective well-being (e.g., job satisfaction, family satisfaction)
Biography
Shuxia (Carrie) Zhang received her Ph.D. in organizational behavior and human resources from The Ohio State University in August, 2022. Carrie's work focuses on positive leadership behaviors (e.g., leader humility, ethical leadership, empowering leadership, leader vision communication, family supportive supervisor behaviors) and organizational stakeholders' subjective well-being (e.g., job satisfaction, family satisfaction, job meaningfulness).
Carrie's work has appeared in leading management journals such as Personnel Psychology, Journal of Management, Journal of Organizational Behaviors, and Journal of Business Ethics. She has also won the Greenleaf Scholars award, the Kwok Leung Memorial Dissertation Fund, and the Fisher Leadership Initiative Research Grant for her excellent research work in leadership. Carrie's primary teaching responsibility includes leadership and organizational behavior core courses. 
Publications
Hu, J., Zhang, S., Lount, R., and Tepper, B. (forthcoming) When Leaders Heed the Lessons of Mistakes: Linking Leaders' Recall of Learning from Mistakes to Expressed Humility. Personnel Psychology.
Zhang, S., Hu, J., Chuang, C. H., & Chiao, Y. C. (in press). Prototypical leaders reinforce efficacy beliefs: How and when leader–leader exchange relates to team effectiveness. Journal of Organizational Behavior.
Venus, M., Johnson, R. E., Zhang, S., Wang, X. H., & Lanaj, K. (2019). Seeing the big picture: A within-person examination of leader construal level and vision communication. Journal of Management, 45(7), 2666-2684.
Zhang, S., Ke, X., Frank Wang, X. H., & Liu, J. (2018). Empowering leadership and employee creativity: A dual‐mechanism perspective. Journal of Occupational and Organizational Psychology, 91(4), 896-917.
Zhang, S., & Tu, Y. (2018). Cross-domain effects of ethical leadership on employee family and life satisfaction: The moderating role of family-supportive supervisor behaviors. Journal of Business Ethics, 152(4), 1085-1097.
Tu, Y., & Zhang, S. (2015). Loneliness and subjective well-being among Chinese undergraduates: The mediating role of self-efficacy. Social Indicators Research, 124(3), 963-98.
Awards
Grant Winner of Kwok Leung Memorial Dissertation Fund, International Association for Chinese Management Research, 2021 ($1,500)
Greenleaf Scholarship Award, 2021($2,500)
Fisher Small Research Grant, The Ohio State University, 2021 ($1,000)
Courses taught by Carrie Zhang
Fall Term 2023 (future)
Winter Term 2023
Fall Term 2022